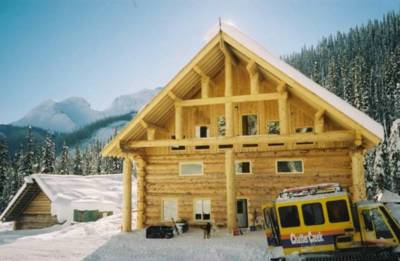 Chatter Creek Cat Skiing
operates a backcountry mountain lodge from which guests enjoy the best of snowcat skiing and snowboarding. This remote site in the Canadian Rocky Mountains provides a tranquille holiday, far from the noise and turmoil of civilization. Operating at elevations as high as 9600 ft., Chatter Creek offers its guests reliable powder snow skiing in a spectacular high mountain setting.
This photo journal describes the construction of Chatter Creek's two mountain lodges,
Vertebrae Lod
ge (shown above) and it's new bedroom annex,
Solitude Lodge
. As you scroll down and read our story, look for
links
to additional photo galleries.
To get a feeling for the ambiance of Vertebrae Lodge, look at our
Lodge Life
and
Happy Campers
photo galleries
Click here to meet some of the people who build the Chatter Creek mountain lodges
Read about
Mission Impossible - Construction of a backcountry ski lodge
on the Chatter Creek Web site.